HOW WE HELP
Albert Einstein was once asked how he discovered the Theory of Relativity. He said "I didn't discover it. I was listening to music and the whole thing dropped in."Young people today need a way to express themselves if they are to find solid direction for their life. The increasing influence of poverty, gangs and drugs can overpower their natural creativity and curb their hope of ever achieving their true potential. 'Growth Through Music Foundation' is a non-profit organization dedicated to providing superior music education opportunities for under-privileged and financially challenged youth of all backgrounds. Music is the universal language of the young. Learning to play an instrument and perform with others has great power to create healthy peer relationships and instill enthusiasm, joy and hope that can stabilize a young persons path and give them the confidence to pursue excellence in life.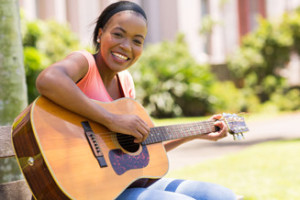 WE PROVIDE THE TOOLS
Many kids today live a life where surviving is hard enough, let alone affording musical training and the instruments they need if they are going to learn how to play well. We help to provide the tools that are necessary for musical education to take place, including class rooms, instructors, instruments, and an arena for musical collaborations amongst peers. By enabling young people to learn and perform on a variety of musical instruments, they progress quickly and discover their natural creativity and confidence. Learning to play and perform with other children in a group setting, they advance at a rapid pace and develop skills that will help them navigate the challenges of life. The self-discipline and practice required to learn to play music will transform and inspire them, and help them develop the social skills needed to produce greater success in all aspects of life.
SUCCESS IN LIFE
GTM enables our young students with a powerful set of tools designed to reinforce important life skills and develop good habits that will guide them throughout their lives. The proven benefits of a well rounded musical education program include: increased creative thinking and problem solving abilities; healthy attitudes; a strong desire to set and achieve goals; higher self-esteem and self-discipline; improved study habits; greater communication and teamwork skills. All of these attributes have been shown to transfer from a musical education on to career success and personal fulfillment!Music is a powerful tool for dramatically enhancing and enriching the effectiveness of education. It makes sense to re-assert and supplement our declining system of in-school music instruction, and to empower the younger generations with access to the wonderful benefits music training has to offer.