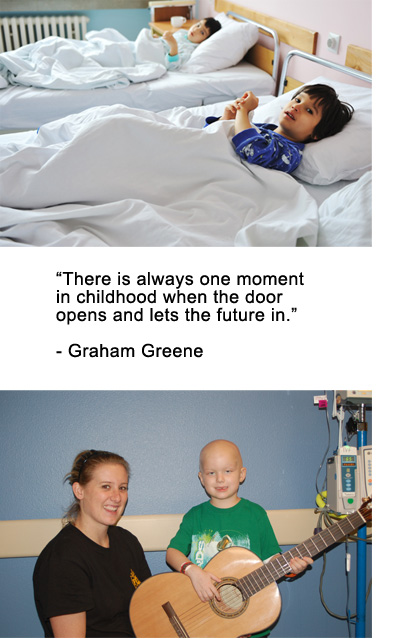 For some children life is a daily routine filled with pain and fear. Their life is sustained by the daily care of doctors, medicine, family and prayers. They long for a taste of what most children take for granted every day. Sometimes all they want is a chance to feel normal and experience the joy of childhood without their illness constantly trying to steal that from them.
Growth Through Music Foundation offers a door to another place where they can escape to the world of music and find new life, new friends and a hope that tomorrow will be better than today. By helping these children discover the joy of music we can lighten the weight of their suffering and bring a refreshing spring of happiness to their lives. We have seen what this can do for children and we are dedicated to making it available for those who suffer with difficult medical conditions.                                      
 Seeing their smiling faces and the gleam in their eyes the first time they hold a guitar or sit down at a set of drums makes every effort and sacrifice worthwhile.  It's like they are caught up in a dream where anything is possible.

Help us make that dream a reality for these special children. Your gift can provide an opportunity to create that one moment "when the door opens  and lets the future in."